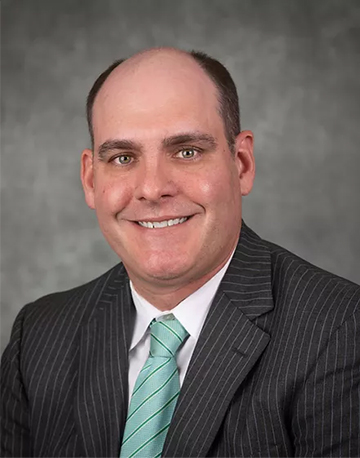 T. Wayne Williams is a partner and co-founder of Williams DeLoatche, P. C. He is a native of the Eastern Shore of Virginia and a 25-year resident of the Hampton Roads area. He received his undergraduate degree in history from the University of Virginia in 1995 and his law degree from the Regent University School of Law in 2000. Prior to forming Williams DeLoatche P.C. in 2008, Wayne was employed by a small local civil litigation firm and a large statewide defense litigation firm. With his wealth of experience in civil litigation for the plaintiff and defense side, he is uniquely qualified to assist with any of your personal injury matters.
In his 20-year career, Wayne has handled personal lines claims for large and small insurance companies as well as self-insured companies located throughout the country. For those companies, he represented their insureds in suits involving automotive accidents and premises liability matters resulting in personal injury. He has been involved in litigation throughout the Commonwealth of Virginia and has tried hundreds of cases in Circuit Courts and General District Courts in Hampton Roads, the Northern Neck, Richmond, the counties of the Eastern Shore as well as in the United States Federal District Court for the Eastern District of Virginia. Wayne's practice now exclusively focuses on the plaintiff's personal injury representing individuals injured in motor vehicle accidents and premises liability incidents as well as nursing home abuse cases throughout the Commonwealth of Virginia.
Wayne is admitted to practice in all local state courts and the U.S. District Court for the Eastern District of Virginia. Wayne is a member of the Norfolk and Portsmouth Bar Association, Virginia Beach Bar Association, and the Virginia State Bar. He is active in the Norfolk and Portsmouth Bar Association serving as a Past President of the organization, as well as currently serving on the Foundation Board. Wayne was the proud recipient of the prestigious Walter E. Hoffman award in 2010 which is presented by the Norfolk and Portsmouth Bar Association for outstanding community service.
Wayne is active in the community through many local organizations. He is a past President of the Sertoma Club of Norfolk and is currently a board member. The Sertoma Club raises money for individuals with speech and hearing problems and other worthwhile causes throughout Hampton Roads. Wayne has also done fundraising for the American Lung Association in memory of his father to support his cause of asthma research. In addition, he serves on the Towne Bank Leadership Alliance Board and boards for several other local businesses. He is also a member of the Eastern Shore Chamber of Commerce where he serves on the board of directors and is a member of the Onancock Rotary Club. For his business success and community involvement, he was honored as one of the top 40 professionals under 40 in the Hampton Roads area by Inside Business in 2010. On multiple occasions, he has been honored as a Super Lawyer/Top 100 for Virginia and received the Top Lawyers award for Coastal Virginia Magazine and CoVaBIZ. Wayne is a member of Francis Asbury United Methodist Church where he serves as the chairperson of the Pastor Parish Committee and on the church council. Wayne is the prior civic league president of his neighborhood, Baycliff, and still serves on the board. He resides in Virginia Beach with his wife Liz, two daughters, Grace and Sarah, and dog, Charlie.