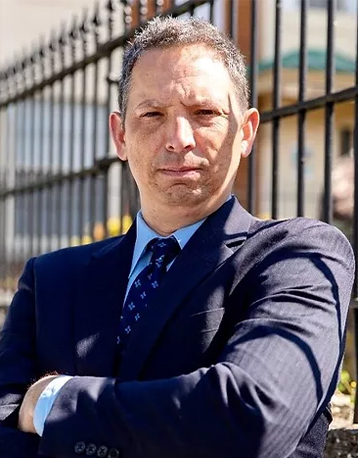 Steve, a Senior Associate, is local to the Roanoke area, where he graduated from Roanoke College in May 2001, with honors, earning a bachelor's degree in business administration, a minor in French, and a concentration in Marketing. He later attended George Mason University School of Law, graduating with a Juris Doctorate degree in 2005. From 2006 to 2010, Steve worked for law firms practicing insurance defense and plaintiff-side personal injury. He founded the Baker Law Firm in 2011 and was hired full-time by Roanoke College in 2016 as a Lecturer, as the Director of the Center for Leadership and Entrepreneurial Innovation, and as the Director of the Roanoke College Innovation Challenge.
Steve has handled various cases throughout his career and specializes in personal injury. Negotiation and finding compromise solutions in challenging situations are among his strengths. Included in his list of accomplishments, he has been a part of jury trials of intentional and negligence torts, tried cases involving slip and fall, alcohol-related car crashes and truck accidents, served as local counsel in a class action involving multi-district litigation, argued a constitutional issue in the West Virginia Supreme Court and successfully appealed a jury verdict in a criminal matter that was overturned in the VA Court of Appeals. His ability to be both intellectual and practical have aided in his career accomplishments.
Steve is active in several community organizations. He has been a member of the Mill Mountain Zoo Board since 2016 and has been serving as the President of the Board since 2021. He is a member of Salem Rotary and serves on the Salem Rotary Board of Directors. He regularly serves as a mentor in the Gauntlet Business Program and counsels numerous business owners and entrepreneurs. Steve volunteers regularly with Sleep In Heavenly Peace, a local charity that builds and delivers beds to children who do not have them. The charity's motto is, "No child sleeps on the floor in our town." Steve further serves his community by participating annually in The Giving Back Society's Charity Fashion Show.
Steve lives in Roanoke with his wife, Susan, daughter, Sophie, his best friend – his black Labrador retriever, "Rac", and two cats, Phineas ("Phinny") and Josephine ("Josie"). He also has a dumpy tree frog, Olive, who Steve routinely feeds and takes care of because his daughter never remembers. Steve is an avid sports enthusiast and loves Roanoke College sports, the Pittsburgh Steelers, and any soccer match he can find to watch! He enjoys taking advantage of Roanoke's many outdoor options, including hiking, golfing, driving the Parkway, and enjoying his passion, the Mill Mountain Zoo.