, Due Nov 3
Join us in providing a Thanksgiving feast for several EDMARC families! EDMARC is a family-centered home health and hospice for children with life-threatening illnesses. This organization holds a special place in the hearts of our Founding Partner T. Wayne Williams and his wife Liz who support this organization personally. Liz has a career in pediatric speech language pathology so she feels like helping children and families in need is her calling.
You may drop the items off at several convenient locations through November 3rd:
Williams DeLoatche, P.C. 4092 Foxwood Drive, Va Beach, VA 23462
Norview Family Chiropractic 7453 Tidewater Drive, Norfolk, VA 23505
Western Branch Chiropractic 3220 Churchland Blvd, Chesapeake, VA 23321
The Spine Group 2416 Virginia Beach Blvd,  Virginia Beach, VA 23454
Precision Chiropractic 1305 Executive Blvd # 170, Chesapeake, VA 23320
EDMARC is very specific in the items for each Thanksgiving Basket. They have planned out what each family needs.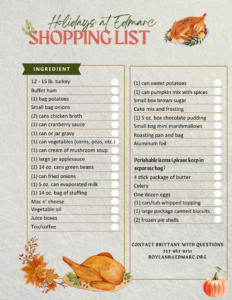 Click here for a printable list of items needed.